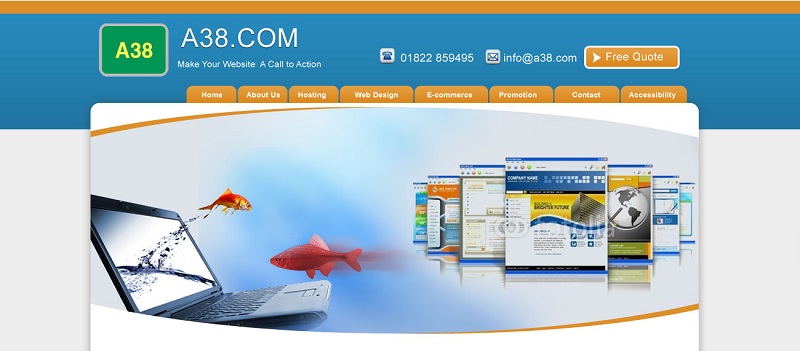 Why We chose A38.com a web design company from Plymouth


Our website was designed and is hosted by A38.com. www.a38.com We would like to thank A38.com for their help and hard work in putting together the Cofast website.

A38.com, based in Plymouth, have over 15 years of web design industry experience.A38.com are a leading web design & development company. We provide professional quality web design for business and personal customers in the UK and Europe. We love building websites it is our passion!

One of the issues we came across when we changed our site was what happens to the old pages that are already ranked in Google and the other search engines? Well, clearly there are too many to duplicate the names of on our new site, and frankly that wouldn't have done the job properly or relevantly either, so A38.com suggested using 301 redirects. I could go into detail here, but handily they have written an article that explains it clearly, you can read it here. http://www.a38.com/how-to-re-direct-visitors-to-a-new-page-or-site

At A38.com quality web design, aim is to make web design affordable for everybody. Whether you are a small business or personal customer they want to make web design affordable, that is why we have come up with a range of professional quality web design packages which will suit most peoples website budget.

Why go to an expensive web design firm and break the bank? A38.com can provide the same web solution with our own quality web design packages at an affordable price.

Why create your own website when you can have a team of professional web designers create you a website to exactly how you want it, without compromise, saving you much time and effort for a competitive fee?

A38.com provide a wide range of quality web design packages, from bespoke websites to full e-commerce websites, everything you need under on roof from one UK Web Designer.

Our professional experienced team will make your web design experience a breeze. Our team will create your website quickly, efficiently and more importantly the way you want it.

When you choose one of our quality web design packages you will be assigned your own personal web designer. Your web designer will communicate with you throughout the web design process. The web designer will look after your project, and will carry out all the changes you request, cutting out any miss communication which can occur from third party interference. This gives you greater control over the design and ultimately will help you to get your website the way you want it.

A38.com love designing websites, we love creating new web designs, it is our passion. We get so much satisfaction when a client sees our work. Our websites are designed with one purpose, to achieve the results you want. It takes plenty of skill, care and passion to achieve this but our team has the expertise and knowledge to make sure you get what you want from the web design.

We have experience in HTML, XHTML, XML, CSS, Java Script, Flash and web programming platforms ASP & PHP. We also have a wealth of knowledge when it comes to SEO, Search Engine Optimisation and know how to get the most from your website. We follow Goolge's guide line for search engine optimisation.

Quality Web Design. We have a wealth of knowledge and experience.
All Website are built to the clients exact requirements,

Our aim is to give you a website that produces the results you want from it at a competitive price. We want your web design to increase traffic and increase sales, making your business more profitable.